MSD Ruby S 0832 *x Lot 40 Swing The Gate Production Sale Sunday October 12, 2014
A big thank you to Black Walnut Farm, Il. & Bent Spear Ranch, Nb. for joining forces to purchase Ruby S 0832 as the second top selling bred female at the 2014 Swing The Gate Production Sale October 12, 2014. Also, thanks to the other breeders who sent bids.
MSD Line One 132 x May 2013
This is a candid photo of Line One May 27, 2013. His first two calves are on the ground. Both are solid red, polled bulls born unassisted. The July 1 calf was 84 pounds and the July 7 calf was 81. Going to have lots of trouble telling these two boys apart in a couple of weeks. They are both triple Creoles and their double grand mother is our foundation Ruby cow that is a 3/4 sister to the original of the noted Max Rosa family.
MSD Line One 232x, Top Selling Lot Minnesota State Shorthorn Sale March 3, 2013.
MSD Line One 132 *x4181735
Line One 132x August 2012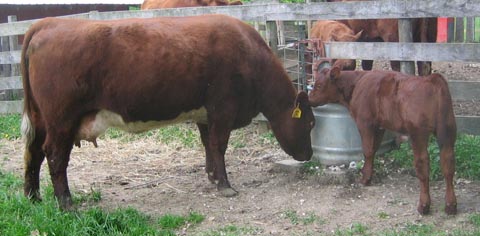 Come See The Ruby Group, Now There Are Seven!
Above is Homedale Ruby 3341 C x, sired by GFS Creole 9590 ET *x whose dam is  a double bred Elbee Mary Margo 3rd. The calf is MSD Ruby P 832 x, whose first daughter came 4-18-2010.
Website Updated 10-2-14