McElhaney Conservation Award
"The McElhaneys are truly good stewards of the land. We are lucky to have them to count on when we want to demonstrate new conservation ideas. They were one of the first to demonstrate a solar water system for us. We appreciate their conviction to conservation and willingness to share their experiences with others." – Robin Heard, Pennsylvania NRCS State Conservationist.
Grazing, stewardship and economics – what do these three things have in common? McElhaney Family Farm thinks the three are made for each other. They made them the cornerstone of their beef operation located on 100 acres plus some leased land in Beaver County in western Pennsylvania.
Beaver dams, wetland areas, tree plantings, stream crossings, and paddocks and alleyways for their championship purebred Shorthorns are part of the multi-generational farm operation.
Dick McElhaney grew up on the family beef farm that is now the entrance to Pittsburgh International Airport. That's appropriate since Dick, his son David, daughter Diane and her husband Don all work or have worked for USAir at the airport. They all work the family farm as well, including another son.
In 2004, McElhaney Family Farm was named a Region I Honoree in the prestigious Environmental Stewardship Award Program.  Read more about conservation at McElhaney Family Farm here.  The ESAP has annually recognized the outstanding stweardship practices and conservation achievements of U.S. cattle producers from across the nation.  Regional and national award winners have been commended for their commitment to proteting the environment and improving fish and wildlife habitats while also inspirng the next generation of land stewards.  While the program highlights stewardship, it also provides fellow cattle producers with examples and ideas which may be useful on their own farm and ranching operations.   
 Nominations can be submitted by any organization, group, or individual on behalf of a U.S. cattle producer.  n the past, nominations have been submitted by a diverse mix of organizations.  A partial list includes: The Nature Conservancy, NRCS, Society for Range Management, state games and parks services, state extension services, universities, wildlife organizations, and all types of livestock groups.
ESAP winners are selected annually by the ESAP Selection Committee, a group of representatives from universities, conservation organizations and federal and state agencies.  For guidance, the judges consider the management of water, wildlife, vegetation, air, and soil along with leadership abilities and the sustainability of the business as as whole.
Nominees compete for one of seven regional awards based on their state of residency.  After the application deadline, the ESAP Selection Committee meets to decide upon the regional winnrs.  From the regional winners, one national winner is then selected later in the year.
The Environmental Stewardship Award Program was esablished in 1009 by the National Cattlemen's Beef Association and is made possible by the generous sponsorship of Dow AgroSciences LLC and the Natural Resources Conservation Service (NRCS) of the United States Department of Agriculture.  
Conservation Practices at McElhaney Family Farm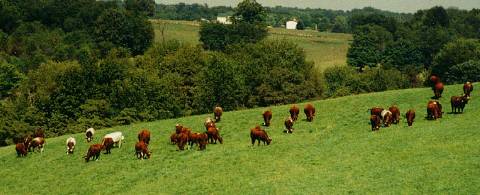 Grazing hillsides while using hilltops for hay, protects the soil and increases the economic benefits.
Woodland management and wildlife habitat are part of farming on McElhaney Family Farm.
Conservation practices on the farm include prescribed rotational grazing, forage management, fencing, water development, solar powered watering systems, forested riparian buffers, wildlife habitat, tree planting, wetland habitat development, stream crossings, nutrient management for year round feeding and water runoff filter system for a state road.
They participate in USDA programs such as Environmental Quality Incentives Program, Wildlife Habitat Incentives Program, Project Grass, and Emergency Conservation Program.